Land Clearing Service
---
Turning unusable overgrown land into productive land for use for other purposes.
Wilding Wood Management Ltd have the right machinery to make light work of your land clearing requirements.
Wilding Wood Management Ltd land clearing service is ideal for situations where vegetation has growing out of control, you are working to a strict timeline, or where access is difficult.
Wilding Wood Management Ltd work with land owners, roading contractors, local government and property developers to transform overgrown land into manageable sections, ready for the next step in your project.
Excavator Services available include: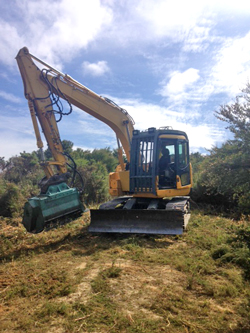 Fire break creation and clearing for pylon gullies
Reclaiming overgrown land
Earthmoving for future development
Survey and fence line clearing
Hedge and shelterbelt removal
Mulching and tree removal
Stump mulching
Digger mulching
Root raking
Grapple work
Post driving
Land clearance
Bulldozer hire
Logging
Wilding Wood Management Ltd are experienced in working on sites with multiple contractors, always ensuring safety is maintained and working closely with others for greatest working efficiencies. Our crews are trained to the New Zealand's forestry and arboriculture standards.