Tree Care Services
---
Correct and Formative Pruning
By employing an expert to remove any dead, dying and redundant growth within the canopy, the structure, health and safety of your tree will be improved. Poor pruning work often causes weak and dangerous growth, which will require potentially costly remedial intervention in the future. With correct and formative pruning such problems can be avoided with the added benefit of reducing future burdens on your financial resources.
Fertilizing and Root Management
Most problems with trees can be traced back to poor root growth. This is typically the result of disturbed, damaged or compacted soil conditions. We employ various techniques to improve the soil profile in the root zone. This encourages healthier root growth and therefore healthier trees. The health and vigour of trees can also be improved with the application of appropriate species-specific fertilizers. Roots growing in the wrong place, causing a nuisance or structural damage to property can also be managed. Our teams employ site-specific cutting techniques, which will not compromise the health of the tree.
Removals
When a tree must be removed you need to have complete confidence in the abilities of your contractors to do the job safely in a timely manner. Our teams are fully trained and well experienced. They will complete the removal of trees by careful felling or by dismantling when space is restricted – such as when trees are very close to property or utilities.
Stump Grinding
We remove stumps by grinding out the stump and surface roots up to 400mm below existing ground level. We then treat remaining roots to ensure that you will not be troubled by unwanted re-growth.
Chipping
As part of the pruning or removal process we process the surplus vegetation resulting from your tree works to produce extremely good garden mulch for your use on site. If you do not wish to use this recycled material we will gladly remove if off site for you.
Planting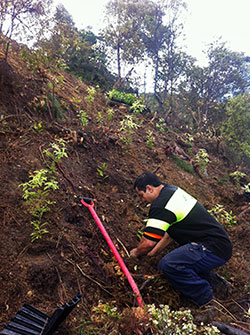 To carry out a successful planting design, our knowledgeable teams provide everything you need. The key to success is in the preparation of the site. This includes preparing the soil, providing an appropriate growing medium, help in selecting suitable species and planting the trees using sound Arboriculture techniques. We also offer a three-month establishment program for your new planting if you require.
Emergency Work and Storm Damage
When storms and other emergencies create dangerous or damaged trees you must be 100% confident in your contractors' ability to carry out the clear up safely. As specialist Tree Contractors you can be sure that we have the necessary expertise to provide a comprehensive service.